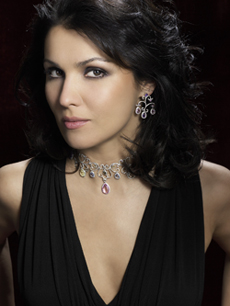 Soprano
• People's Artist of Russia
• Recipient of the State Prize of Russia
• Recipient of the third prize at the International Rimsky-Korsakov Young Opera Singers' Competition (St Petersburg, 1996)
• Recipient of the first prize at the All-Russian Glinka Vocalists' Competition (Moscow, 1993)
• Recipient of the Bambi Prize from Hubert Burda Media in the classical category (2006)
• Recipient of St Petersburg's highest theatre prize the Golden Sofit (1998-1999, 2000-2001, 2005)
• Recipient of Germany's Echo prize (2005)
• Recipient of the Casta Diva Russian music prize (1998)
Anna Netrebko was born in Krasnodar and studied music at the St Petersburg State Rimsky-Korsakov Conservatoire (class of T. Novichenko). In 1994 she made her Mariinsky Theatre debut as Susanna (Le nozze di Figaro).
Roles performed at the Mariinsky Theatre include:
Antonida (A Life for the Tsar)
Lyudmila (Ruslan and Lyudmila)
Xenia (Boris Godunov)
Marfa (The Tsar's Bride)
Luisa (Betrothal in a Monastery)
Natasha Rostova (War and Peace)
Rosina (Il barbiere di Siviglia)
Amina (La sonnambula)
Lucia (Lucia di Lammermoor)
Gilda (Rigoletto)
Violetta (La traviata)
Musetta, Mimí (La bohème)
Micaëla (Carmen)
Antonia (Les Contes d'Hoffmann)
Susanna (Le nozze di Figaro)
Donna Anna, Zerlina (Don Giovanni) among others
In 1999-2000 Anna Netrebko appeared in the operas Le nozze di Figaro, Betrothal in a Monastery, Idomeneo and La bohème at the San Francisco Opera.
In 2002 she made her Metropolitan Opera debut as Natasha Rostova (War and Peace). This role, one of the finest in her repertoire, has also been performed at the Mariinsky Theatre, Madrid's Teatro Real, Milan's La Scala, Londen's Royal Opera House and the Moscow Easter Festival. Moreover, in 2002 Anna Netrebko made her debut at the Philadelphia Opera as Giulietta (I Capuletti e i Montecchi), and in summer that year she made her first appearance at the Salzburg Festival as Donna Anna (Don Giovanni). Following her triumphant Salzburg Festival debut, Anna Netrebko began to appear at the world's leading opera houses, among them the Metropolitan Opera, San Francisco Opera, the Royal Opera House, Covent Garden, the Wiener Staatsoper, the Opйra de Paris, the Berliner Staatsoper and the Munich Staatsoper. She frequently returns to the Mariinsky Theatre to work with Valery Gergiev.
Anna Netrebko's works in recent years have included lead roles in Don Pasquale (Metropolitan Opera) and Manon (Los Angeles Opera). In November 2006 she performed the lead role in I puritani (Metropolitan Opera), while in 2007 she made her debut at Carnegie Hall in a concert with Dmitry Hvorostovsky in addition to the traditional closing of the BBC Proms At London's Royal Albert Hall.
The same year Anna Netrebko performed at the Kennedy Center Awards Ceremony, and in 2008 she appeared at the Classical BRIT Awards ceremony together with Andrea Bocelli. In autumn 2008 she took part in a film version of La bohème (directed by Robert Dornhelm) together with Rolando Villazon, later appearing with Vilazon in the full version of the opera for Deutsche Grammophon. In 2008 she made her debut at the Opéra National de Paris, performing the role of Giulietta (I Capulietti e i Montecchi).
Anna Netrebko performs with leading conductors such as Valery Gergiev, James Levine, Seiji Osawa, Nikolaus Harnoncourt, Zubin Mehta, Colin Davis and Claudio Abbado at the world's leading opera venues. She can also be heard at such legendary concert halls as New York's Carnegie Hall, London's Barbican Centre and the Royal Albert Hall and stadiums where she sings for tens of thousands. Anna Netrebko's open-air concerts together with Plácido Domingo and Rolando Villazon at Berlin's Waldbühne at football's World Cup (2006) and at Vienna's Schцnbrunn during the European Football Cup (2008) were broadcast on TV to millions of viewers throughout the world.
Anna Netrebko has a vast series of recordings, including solo albums as well as complete operas on CD and DVD. The success of her solo discs with Deutsche Grammophon – Opera Arias, Sempre Libera and Russian Album – surpassed all expectations and created a true furore, as did recordings of La traviata and Le nozze di Figaro and the DVD Anna Netrebko: The Woman. The Voice. Today in Germany and Austria, all of the singer's albums have attained platinum status. The disc Duets, recorded with her regular stage partner Rolando Villazon, took first place in the USA's Billboard classical ratings. In November 2008, the singer presented the public with her fourth solo album Souvenirs – a collection of arias from operettas and romances from countries throughout the world.
Anna Netrebko's other achievements include two nominations for a Grammy, the prestigious Bambi Prize and six Echo Klassik awards presented in Germany, the title "Musician of the Year", presented by Musical America in 2008, and the titles "Singer of the Year" and "Female Musician of the Year" in the United Kingdom (Classical BRIT Awards).
For more information, please go to the http://www.annanetrebko.com/