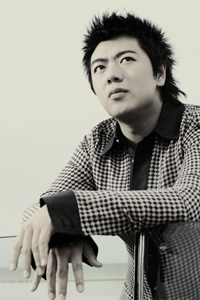 Heralded the «hottest artist on the classical music planet» by the New York Times, Lang Lang has played sell-out concerts in every major city in the world and is the first Chinese pianist to be engaged by the Berlin and Vienna Philharmonic Orchestras as well as the top orchestras of America. Over two billion people viewed Lang Lang's performance during Beijing's opening ceremony for the 29th Olympic Games.
Lang Lang began playing piano at the age of three, and by the age of five he had already won the Shenyang competition and given his first public recital. Entering Beijing's Central Music Conservatoire at the age of nine, he won first prize at the Tchaikovsky International Young Musicians' Competition and played the complete twenty-four Chopin Études at the Beijing Concert Hall at the age of thirteen. His break into international stardom came at seventeen, when Lang Lang performed the Tchaikovsky Concerto with the Chicago Symphony Orchestra.
In the 2008–2009 season, Lang Lang is holding residencies in Chicago, Toronto, San Francisco, London, Rome and Stockholm. Outreach events are organised in co-operation with the Lang Lang International Music Foundation, launched with support from the Grammy Awards and UNICEF to foster young talent. He was nominated Best Instrumental Soloist in 2008 for a Grammy.
Lang Lang serves as global brand ambassador for Sony Electronics and continues his honoured relationship with Audi Automobiles as their global brand ambassador. He is also an International Goodwill Ambassador for UNICEF, a Young Global Leader (selected by the World Economic Forum) and Chairman of the Montblanc de la Culture Arts Patronage Award Project. Moreover, the pianist currently serves on the Weill Music Institute Advisory Committee and is a member of Carnegie Hall's Artistic Advisory Board.
Lang Lang records exclusively for Deutsche Grammophon / Universal Music. His latest recording is of Chopin's Piano Concerti Nos 1 and 2 with Maestro Zubin Mehta conducting the Vienna Philharmonic Orchestra.
Journey of a Thousand Miles, Lang Lang's biography, is published by Random House, as is a version specifically aimed at younger readers, entitled Playing with Flying Keys.