With:
Lorenz Nasturica-Herschowici (Violin), Romano Tommasini (Violin), Wilfried Strehle (Viola), Christoph Igelbrink (Cello), Wenzel Fuchs (Clarinett), Stefan de Leval Jedzierski (Horn), Bence Boganyi (Bassoon), Esko Laine (Contrabass)
Programme includes:
Gioachino Rossini. Sonate No. 3, C Major
Hans Werner Henze. Quattro Phantasie
Ludwig van Beethoven. Septet for clarinet, horn, basson, violin, viola, cello and contrabass, Es Major, op. 20
Dear Theatregoers, prior to the start of the concert there will be a grand opening of an exhibition dedicated to outstanding German conductor Wilhelm Furtwängler. Photographs, correspondence, audio recordings and souvenirs provided by the Archives of the Berlin Philharmonic Orchestra present an insight into the live, art and musical legacy of Furtwängler within the context of his time.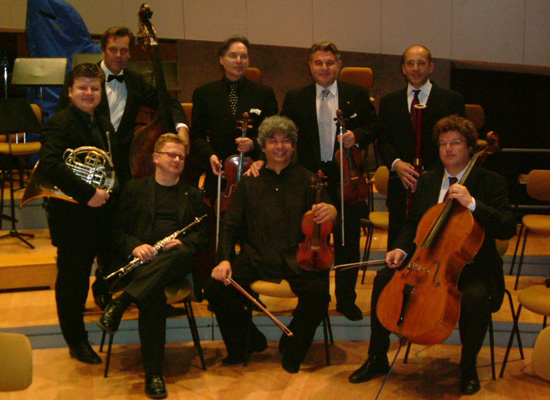 The Philharmonische Oktett Berlin was established over seventy years ago and, like many chamber music ensembles formed by musicians of the Berlin Philharmonic, it appears in all major cities throughout Europe and the USA. Great names and musicians of international repute, such as former Berlin Philharmonic Orchestra leaders Spivakovsky, Rhén and Borries, cellists Pyatogorsky, Gaudan and Steiner, clarinettist Bürkner and double bass player Zepperist, are all recorded in gilded lettering in the ensemble´s annals of history.
While before the end of World War II the orchestra toured only around Europe, after the War it began a new stage of its concert performances across the Atlantic. In 1954 the Oktett completed its first seven‑week tour of South America. The musicians also went on two major tours in Africa and in Japan, Korea and China, Malaysia, New Zealand and Australia. Already by 1978, there were concerts in Israel and the former USSR. The ensemble is also a frequent guest at festivals in Salzburg, Lucerne and Berlin.
The ensemble´s music repertoire is based on Beethoven´s septet and Schubert´s octet. Alongside these, the ensemble performs many classical and romantic works where violins appear together with wind instruments, for example in the major clarinet quintets by Mozart, Weber and Brahms. In 1958, Paul Hindemith composed an octet for the orchestra, which was premiered in Berlin. Hindemith performedt he role of first viola. These concerts were followed by music by music by contemporary composers including Blacher, Henze, Stockhausen, Isang Yun and Rihm.
The Philharmonische Oktett Berlin has made numerous recordings with Deutsche Grammophon, Philips, Sony and EMI. Together with Nimbus Records, the musicians have recorded Hindemith´s octet, Beethoven´s septet and Schubert´s octet on two discs which were acclaimed by critics as an outstanding collectors´ recording edition.