Olga Moiseyeva as Nikia
Photo by Ye. Lesov, 1952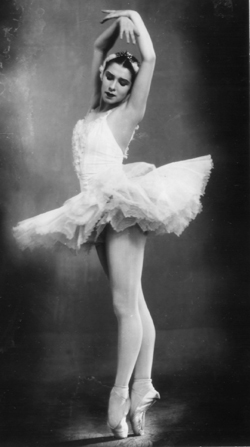 Olga Moiseyeva as Odette
Photo by Ye. Lesov, 1950 год
Olga Nikolayevna Moiseyeva has devoted over sixty years of her life to her beloved theatre. Much has changed in that time: the theatre´s repertoire has seen many alterations, several generations of artists have come and gone, and the Kirov Theatre has reverted to its original name. Even the city of Leningrad, where the career of the famous ballerina first took off, has again become St Petersburg. The aspects of Olga Moiseyeva´s life that have not changed are her almost religious devotion to art and the unceasing joy she derives from music and dance.
Olga Moiseyeva´s career, like those of many celebrated ballerinas, began at the Leningrad Choreographic School. After graduating in 1947, she was accepted by the Kirov Theatre´s ballet company. With the solid grounding of Agrippina Vaganova´s teaching behind her, the young ballerina boldly and energetically mastered the theatre´s classical repertoire. She danced Odette-Odile in Swan Lake and Princess Florina in The Sleeping Beauty, Raymonda in the ballet of the same name and the street dancer in Don Quixote – the range of the young ballerina´s artistic predilections was quite broad. Her ability to live the dance and her superb acting intuition meant that her choice of repertoire was not restricted to the customary roles. The familiar images of classical ballet heroines took on a new, unconventional flavour in Moiseyeva´s interpretations. She brought to these roles her own intonation, her own unique "timbre".
One of her greatest successes was the part of Nikia in La Bayadère. Agrippina Vaganova´s opinion was biased, of course, but she recalled that the spirituality of Olga Moiseyeva´s performance in this role and the extraordinarily expressive line of her arms reminded her of Anna Pavlova.
However, although she had now acquired the status of a classical ballerina, Olga Moiseyeva had always dreamed of working with contemporary choreographers. For her graduation performance she had danced the choreographic miniature Dreams in Leonid Yakobson´s production, and her repertoire at the Mariinsky expanded to include the leading roles in his ballets Shurale and Spartacus (though she was virtually fourth choice for the part of the Girl-Bird, and only danced Aegina after Alla Shelest). Nevertheless, Moiseyeva´s time finally arrived: Leonid Yakobson created the choreographic miniature Mother for her, and she was the first to perform the role of Mekhmene-Bahnu in Yury Grigorovich´s Legend of Love.
Olga Moiseyeva´s career represents the accumulated experience of three dance eras: classical Imperial ballet, the choreographed dramas of the 1930s and 1940s, and the innovations of Igor Belsky, Yury Grigorovich and Leonid Yakobson.
Olga Moiseyeva passes on her rich acting experience and her fascination with the profession to her pupils. She gives lessons in classical dance and rehearses the theatre´s artists. Her pupils include such outstanding masters of ballet as Galina Mezentseva, Altinay Asylmuratova, Igor Zelensky, Nikolay Tsiskaridze, Svetlana Zakharova, Yulia Makhalina and Olesya Novikova.