Veronika Yaruskova (violin), Eva Karova (violin), Pavel Nikl (viola), Peter Yarusek (violoncello)
The programme includes:
Janacek. String Quartet No 1 Kreutzer Sonata
Haas. String Quartet No 3
Beethoven. String Quartet Op 59 No 3 Rasumovsky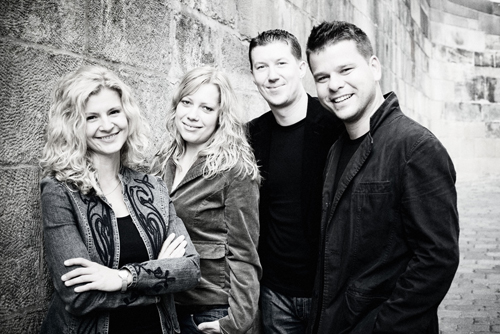 "The Pavel Haas Quartet from the Czech Republic were sensational… their account of Beethoven´s 3rd Rasumovsky quartet, from the miniscule pianissimo at the start to the thrilling, almost orgiastic Russian dance at the end, was breathtaking."
The Independent
"The Pavel Haas Quartet gave a magnificent performance of Beethoven´s third Razumovsky, with the finale as exciting and explosive as I have heard it. They combine virtuosity with a full, glowing sound, and their style is discreetly aristocratic."
The Sunday Telegraph
´What is so impressive about this debut is the group´s bold, original approach to this famous repertoire. They are technically beyond reproach and convey, with almost graphic immediacy, Janacek´s searing passion. They present us with the finest, most vivid account of Haas´s second quartet on disc. A very special group."
BBC Music Magazine
The Quartet takes its name from the Czech composer Pavel Haas (1899-1944). His legacy includes three wonderful string quartets. As well as Haas, the Quartet is passionately committed to the Czech repertoire while their performances of Prokofiev, Shostakovich, Beethoven and Mozart have also received extraordinary acclaim. Based in Prague, the quartet has studied with some of the masters of the quartet world including members of Quartetto Italiano, Quatuor Mosaiques and the Borodin and Amadeus Quartets. It worked particularly closely with Milan Skampa (Smetana Quartet) and Walter Levin (La Salle Quartet).
In Spring 2005 the Pavel Haas Quartet won the Paolo Borciani competition in Italy, and were launched onto the international stage. Since then the Quartet has performed at the world's most prestigious concert halls, receiving great acclaim from audiences and critics alike. In 2007 the Quartet were awarded a Gramophone Award for their debut CD of works by Janacek and Haas.
The 2007/8 season saw the Quartet give an extensive European tour. Tour dates included Vienna Konzerthaus, Salzburg Mozarteum, Amsterdam Concertgebouw, Palais des Beaux-Arts, Brussels, Cologne Philharmonie, Festspielhaus Baden-Baden, and Stockholm Konserthuset. Other European highlights included performances at the Wigmore Hall and the Berlin Phliharmonie. The Quartet toured the USA which culminated with their debut performance at the Carnegie Hall, New York. They finished the season by making their debut at the Edinburgh International Festival.