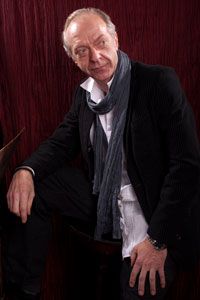 Valery Kukhareshin (biography)
Valery, in the production of My Fair Lady you face a very important task. Bernard Shaw's character Henry Higgins is not a simple one – in one way his "iron-cast" temperament reflects the image of the kin, coquettish and capricious Eliza. What do you think of Robert Carsen's production – is he an alpha male, a man of mystery or a grumbling professor?
I have to say that that character is nothing like Valery Kukhareshin in life. He is more reserved, dry, he hides his feelings, while I am much more emotional. But we're working on the role. Of course, Higgins changes as the plot progresses. But the finale is ambiguous, we don't know for sure what metamorphoses have taken place with the characters. Eliza comes to him, and he is of course delighted, but then he just moves a chair and says "Well, let's live like that."

There are just a few days now until the premiere, it's a complete sell-out, no tickets left at all – St Petersburg has long awaited it's own Russian-speaking Lady. Was it hard to work with Carsen?
I was delighted. I was somewhat surprised when I was asked to take part in this production, but then it became so interesting and truly joyful. This month or so we have been rehearsing, I wake up in the morning and I think about what music I will be hearing today in my mind. And what surprised me more than anything else was that although the production has already been staged in Paris I thought the stage director would be telling the performers to "come here", "you're your hear" and "go there" – but everything is very lively and serious, it's such an interesting artistic process that really shows up the relationships between the characters and all the nuances. Even in dramatic theatre where I normally work stage directors don't always approach their work with such meticulousness, cleverness, irony and humour. That, of course, is all down to Carsen. To repeat once again, I am delighted to have discovered something new and to have worked with such a skilled stage director! There are so many wonderful and unexpected things that happen every day and you can't foresee them all. That's as it should be, I mean Robert and his whole production team. Forget the fact they are world leaders in their field, it's not the first time I've seen people with brains and talent; he doesn't create any fuss, it's easy and interesting to work with him. And so it's great to create a piece that is not "formal" but rather a living story.

You have a lot of experience of working in musical productions, among them at the Youth Theatre on Fontanka and the Mikhailovsky Theatre.
Yes, I've done musicals. For example, the eccentric rock opera Cyrano de Bergerac to original music. Of course, the music there was simpler than My Fair Lady by Loewe… And for several years now I've been at the Mikhailovsky Theatre in series of performances of the children's subscription where I perform the comic role of Baron von Kamerton. I love children, I have a large family.

So appearing as a singer doesn't present you with any extra problems – physical or psychological?
My role has a great deal of recitatives. It's not an opera, of course, I wouldn't have been asked to perform in an opera. But in any case I sing, and I love doing it! I know the score and I have a sense of rhythm, the conductor and the stage director have both said so. Of course I can't sing like professional singers, but I have something else to offer. And there aren't so many vocal problems. The only thing is that we would have liked more time! We got to grips with the music "in the rough" and then we got to the nuances, and in the musical there are many such specific nuances in accordance with the stage director's production of the piece.

And what do you think of your partner?
Gelena Gaskarova is so beautiful and has such an amazing voice! I've learned a lot from her vocally and I hope I have helped her as a straight actor.

Did you take any cues from the legendary film version? In the stage version there is much more music, which has advantages as well as disadvantages.
Yes, there is more music, but there are also more recitatives. And in the film the actress is truly superb. I look at my partners on the stage and I wonder why I, a straight actor, have been invited to undertake this role. Here more than seventy percent is acting and not singing… But I didn't really take the film into account. It is, of course, a masterpiece, but I took the conscious decision not to watch it again. It decided to start from scratch, a clean page. The only problem was working with the Russian translation, parts of which were quite boring and we tried to amend that. I don't like it myself when a text is "read out" to me, I like the sensation of the action taking place here and now and the audience to feel the delight not just of the beautiful melodies and songs but also the interest of the drama onstage as we perform our roles… It's the kind of performance you look forward to.
Interview with Anastasia Grib