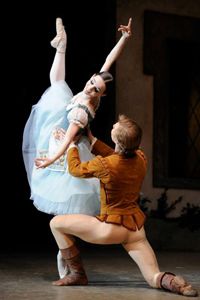 Maria Kochetkova in the ballet Giselle
Maria Kochetkova, a graduate of the Moscow State Academy of Dance and a record holder in terms of the number of medals she has won at international ballet competitions, has now been a prima ballerina with the San Francisco Ballet for six years. While still a student at the Moscow State Academy of Dance she won the Prix de Lausanne ballet competition in 2001. Immediately after graduating from the academy, Maria trained in London for one year with the Royal Ballet at Covent Garden; she subsequently joined the English National Ballet, another highly respected British company, where she worked for five years. In 2007 the ballerina was invited to join the San Francisco Ballet (USA), where she was immediately made a First Soloist. Maria's repertoire currently includes numerous roles in both the classical repertoire and ballets by contemporary choreographers. American critics have described Maria Kochetkova as "San Francisco's finest ballerina."
At the Mariinsky Theatre, Maria Kochetkova will be performing for the first time and in two different ballets – on 3 January she will be appearing as Giselle in the eponymous ballet and on 8 January she will be performing the role of Masha in the ballet The Nutcracker with choreography by Vasily Vainonen. Maria will be partnered in both performances by Mariinsky Theatre soloist Timur Askerov.
In one interview, Maria stated that "You could talk about Giselle forever! It is absolutely 'my' ballet! For any ballerina the role of Giselle is incredibly interesting: here you have character development and the evolvement of an image – it is totally thrilling to work on and live this each and every time. I was first offered Giselle in London when I was nineteen – I was too young for it. I declined the offer to dance the ballet, I had no idea at all how to enact the tragedy of love and the mad scene. If you have not experienced it in life, it is hard to understand it and convey it to the audience. Then I came to Tamara Rojo, whom I consider to have some of the most incredible acting skills in the world, and I asked her to help me. Tamara suggested I watch Dancing in the Dark with Björk and try to get under the character's skin through that film. Since then I have danced Giselle many, many times and sensed the character one hundred percent, and the re is nothing left of any copying."
Maria Kochetkova's performances will also see debuts by Rafael Musin as Hans in the ballet Giselle (3 January) and Ernest Latypov as the Negro in the ballet The Nutcracker (8 January).