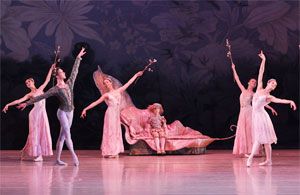 Scene from the ballet A Midsummer Night's Dream
On 25 October Mariinsky Theatre prima ballerina Daria Pavlenko will be making her debut as Hermia in the ballet A Midsummer Night's Dream, while on 27 October she will be performing the role of Titania for the first time. Daria Pavlenko's repertoire already includes many ballets by George Balanchine, among them Apollo, Prodigal Son, Serenade, Symphony in C, La Valse and Jewels. The dancer's repertoire now includes a further two new roles in the brilliant American choreographer's most fairytale ballet.

On 26 and 27 October there will be a large number of debuts.
On both evenings the role of Butterfly will be danced for the first time by Valeria Martynyuk (26 October) and Elena Yevseyeva (27 October).
On Friday Anastasia Petushkova will be appearing as Hippolyta, Viktoria Krasnokutskaya as Hermia and Vadim Belyaev as Theseus. Alexei Timofeyev will be making his debut in the Pas de deux from Act II.

The next evening, 27 October, will see Filipp Stepin performing the role of Oberon, King of the Fairies and Elves, for the first time. Grigory Popov will be dancing as Puck the elf. The role of Bottom the weaver who is transformed into an Ass by Puck's tricks will be performed by Sergei Kononenko.