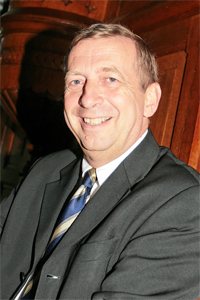 Organ
Philippe Sauvage was born in Paris in 1956. From 1971–1978 he studied music theory, composition, Gregorian chant and organ at the École César Franck de Paris under Claude Terrase and Édouard Souberbielle. In 1979 he won first prize at the National Organists' Competition of Paris; members of the jury were unanimous in their decision. From 1981–1983 he studied under Susan Landale at the Conservatoire de Rueil-Malmaison, graduating with the Gold Medal. From 1982–1983 he also studied under Marie-Claire Alain. He was awarded first prize in organ studies by the Conservatoire de Rueil-Malmaison. In June 2005 he received the title of a teaching professor of the arts.
In 1989 he succeeded Loïc Mallié and Jean-Claude Henry as organist of the Cavaille-coll great organ at the Église Catholique Saint Pierre in Neuilly-sur-Seine. He remains the "in-house" organist of this church to the present day.
Since 1972 he has performed regularly in concert. He has appeared in Paris at Notre Dame, St-Foma Akvinsky, St-Germain l'Auxerrois, St-Louis d'Antin, St-Séverin, La Madeleine and Saint-Roch. He has also taken part in numerous festivals throughout France. These include festivals in Chartres, Champagne, the Festival des Trois Chapelles, the Festival des Forêt and the Festival de l'Ile Saint Louis. To date he has given over six hundred concerts, both solo and together with orchestras and other performers. He has collaborated with ensembles including A Sei Voci, the orchestra Harmonia Nova, the Ensemble de Cuivres de Paris, Magnifica and the Orchestra of Cologne. He has given concerts in the UK, Germany, the Netherlands and Malta as well as performing on Radio France broadcasts.
He is also a member of France's Société des auteurs, compositeurs et éditeurs de musique (SACEM). His discography is extremely extensive. He has been involved in music recordings for Claude Pinoteau's film La Neige et le feu and he wrote the music for films in the Nature series for the Département d'Aisne (2002).
He is actively engaged in teaching. Since 1992 he has been a staff teacher of organ playing at the Conservatoire de Putot-en-Bessin, and since 1991 he has taught organ at the Conservatoire de Breuillet.
He has organised extensive trips throughout France and Germany in the quest to find outstanding organs. He is involved in the project Essonne les Orgues-Adiam 91–1989 and he also inspired the Eparchial Organ Commission of the Département des Hauts-de-Seine. He is a permanent jury member of the FEM jury, an organisation which runs regional competitions in Paris.